ACCOMMODATION AT SCHRIKKLOOF
We would very much appreciate your stay at Schrikkloof. With your stay you contribute in a big way to the well-being of the lions in our sanctuary The Lions Foundation. For accommodation, you have a choice of two suites and eight chalet rooms, all with airconditioning/heating. To ensure peace and quiet for all guests, there is no TV in the rooms – but there is one in the main lodge.

Suites
The two 50m2 luxury suites, Lion (our honeymoon suite) and Giraffe, are located on the first floor of the main lodge. Both have a private, lavish bathroom with bath and shower. The rooms have a very comfortable king size bed, a seating area, a fridge and coffee/tea making facilities. The south facing balconies overlook a big part of the estate.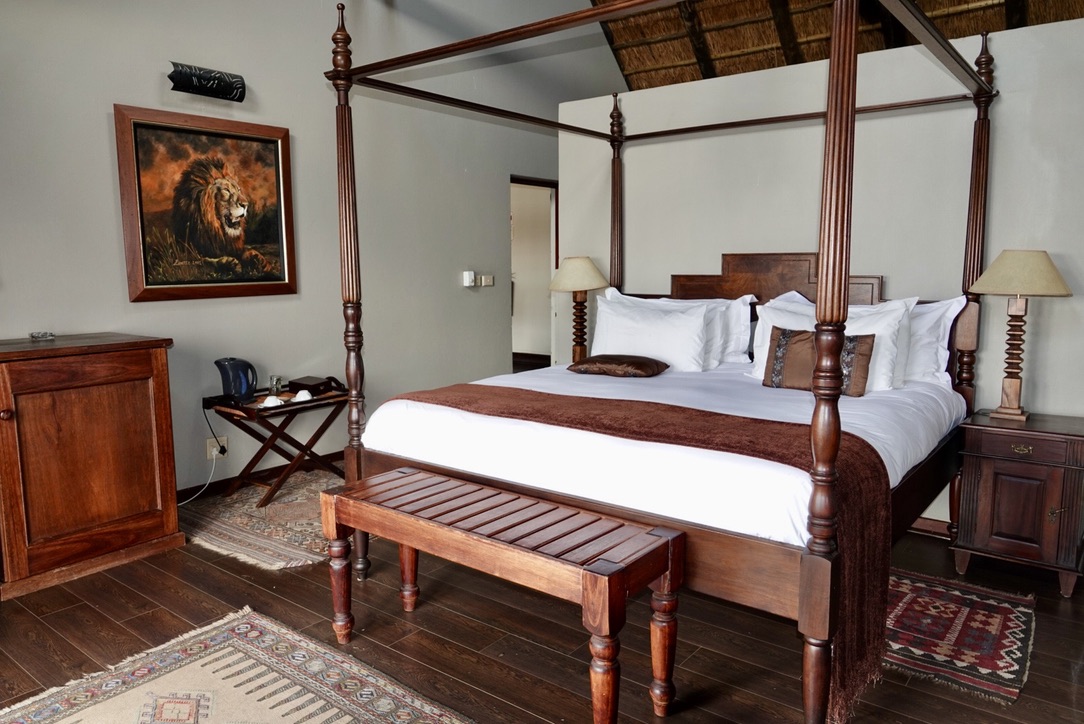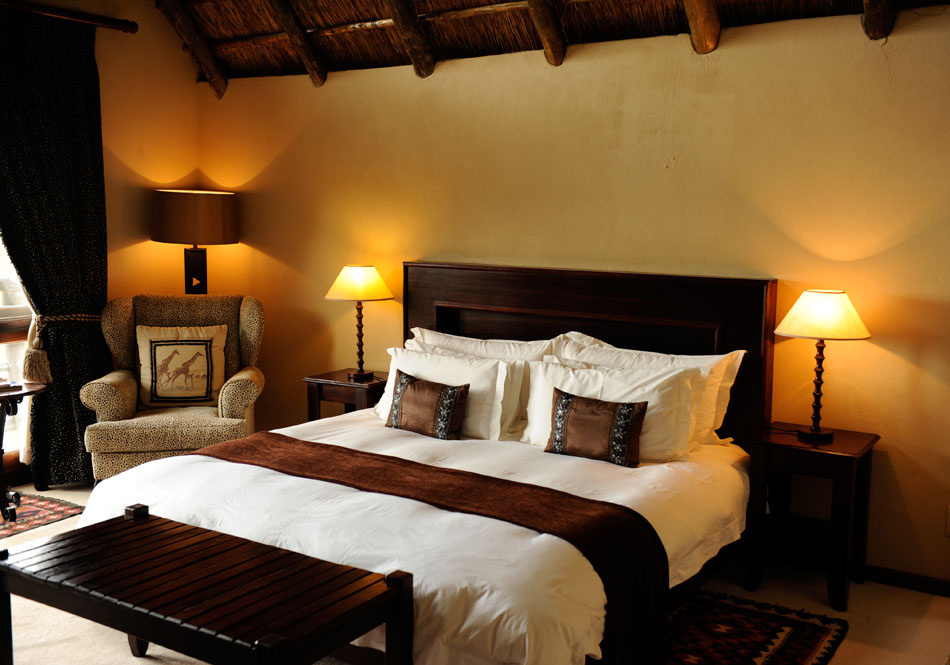 Chalets

Three of our semi-detached chalets, Zebra, Elephant and Leopard, offer six beautifully decorated 50m2 rooms with private entrance, private bathroom featuring a bath with a view, and an outside shower. The chalets are situated on a path leading away from the lodge. They have private parking. The rooms have a comfortable king size or twin bed, a seating area, a fridge and coffee/tea making facilities. The balconies, also south faced, offer a relaxing view of the bushveld and the water hole.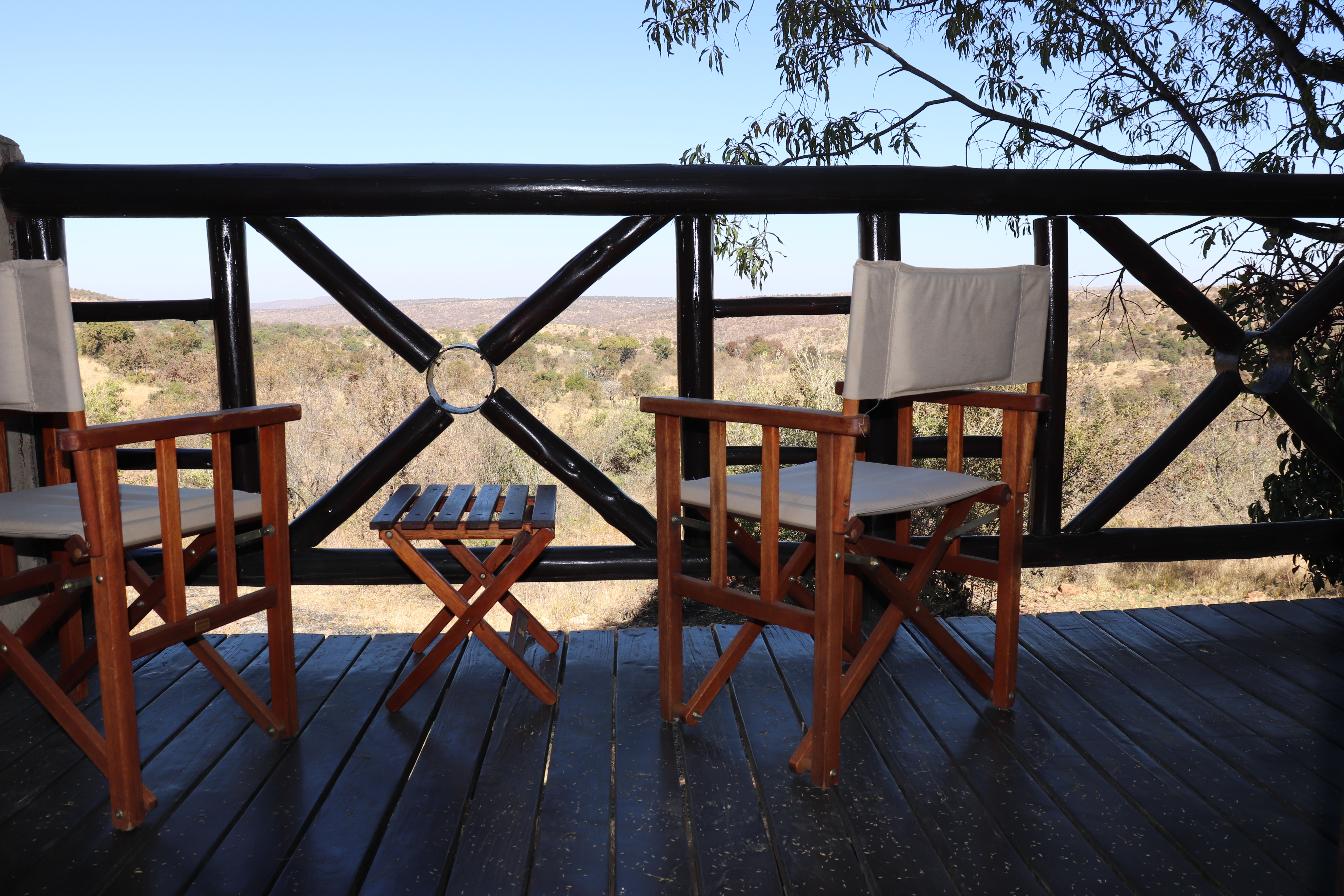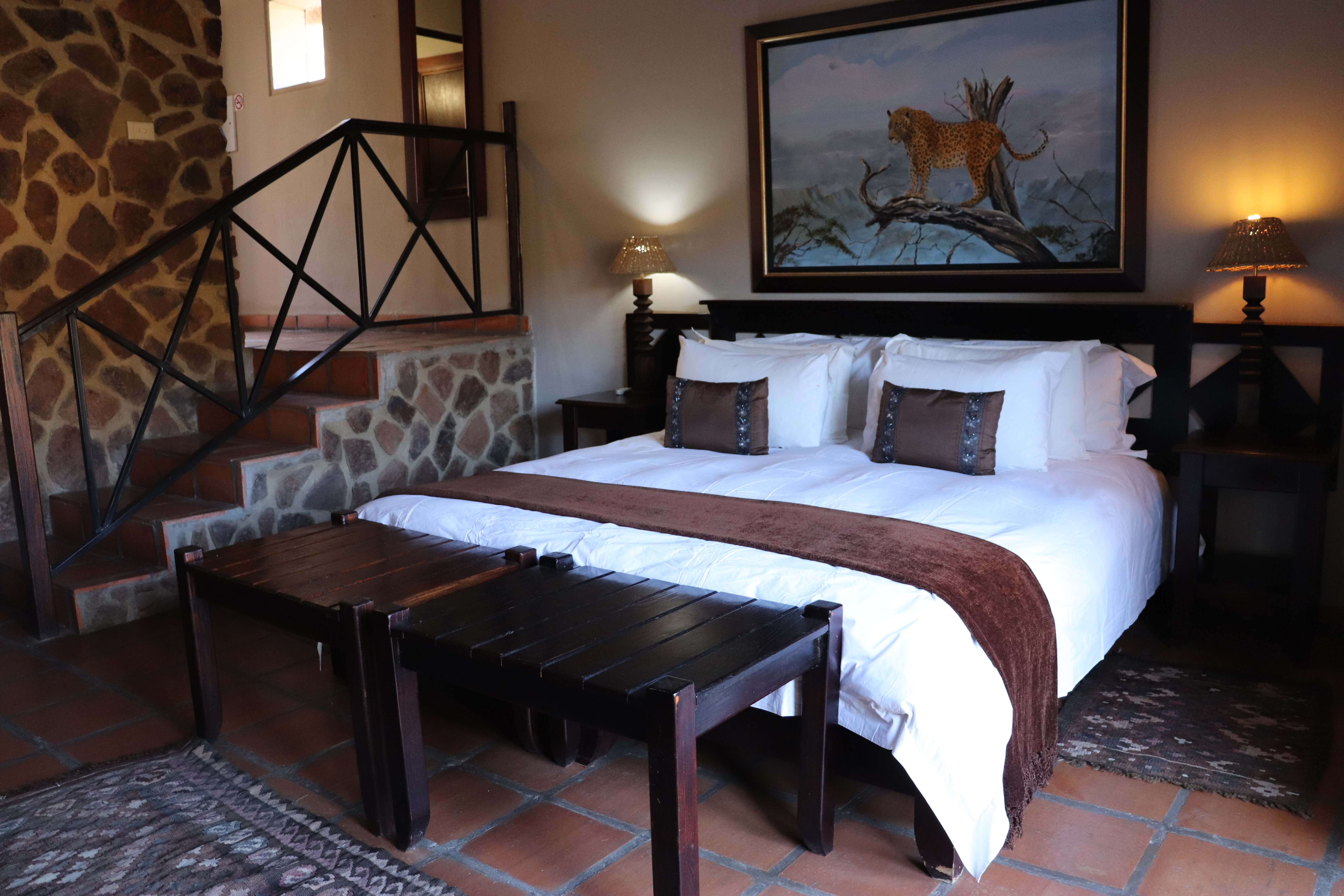 One semi-detached chalet, Impala, offers the same features as the other three. There is ample room for another single bed. The chalet is located near the pool and the conference room. One room features a bath, the other an inside shower. The 50 m2 rooms have a private entrance but share the entrance path. The Impala is therefore ideal for a group of up to six people.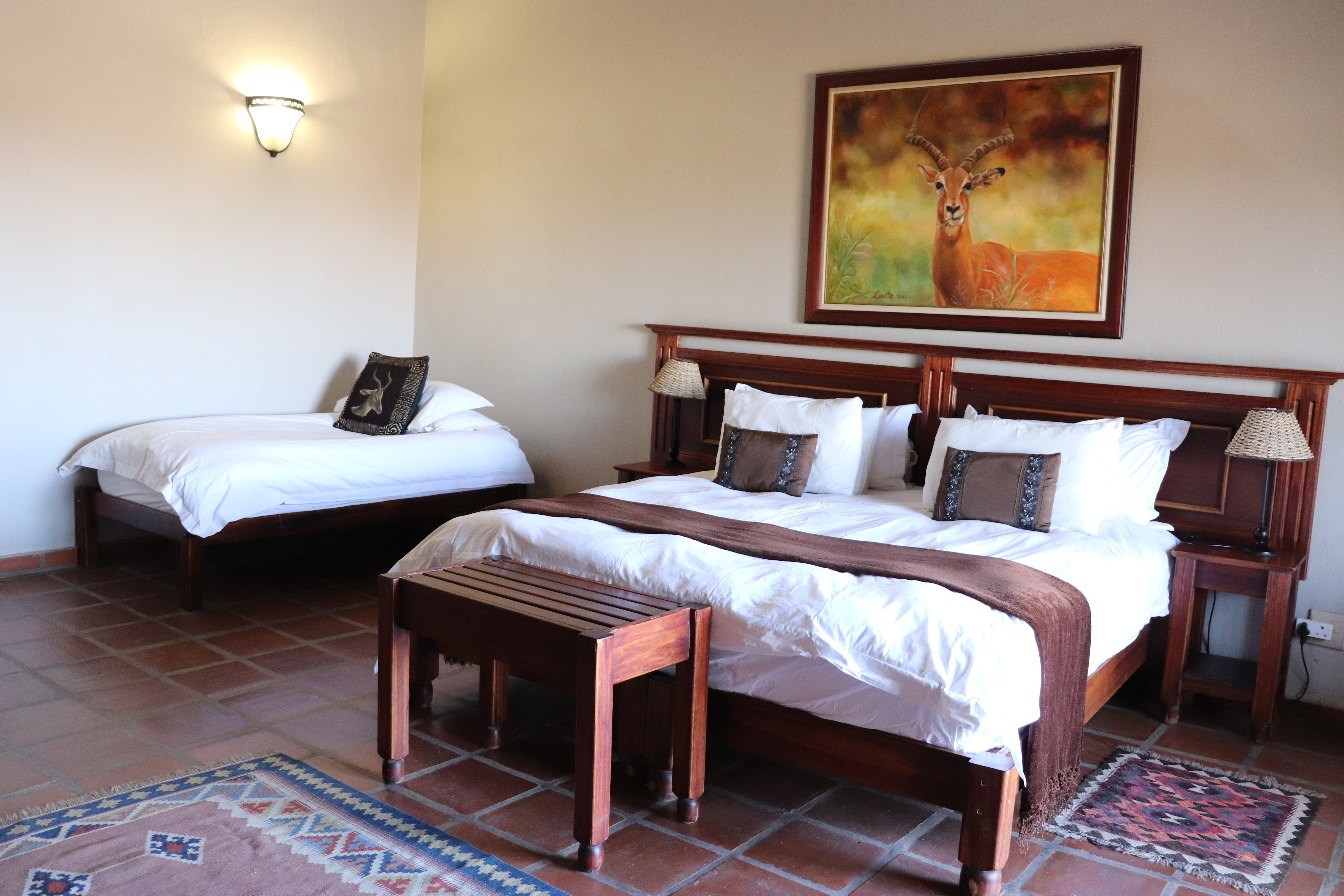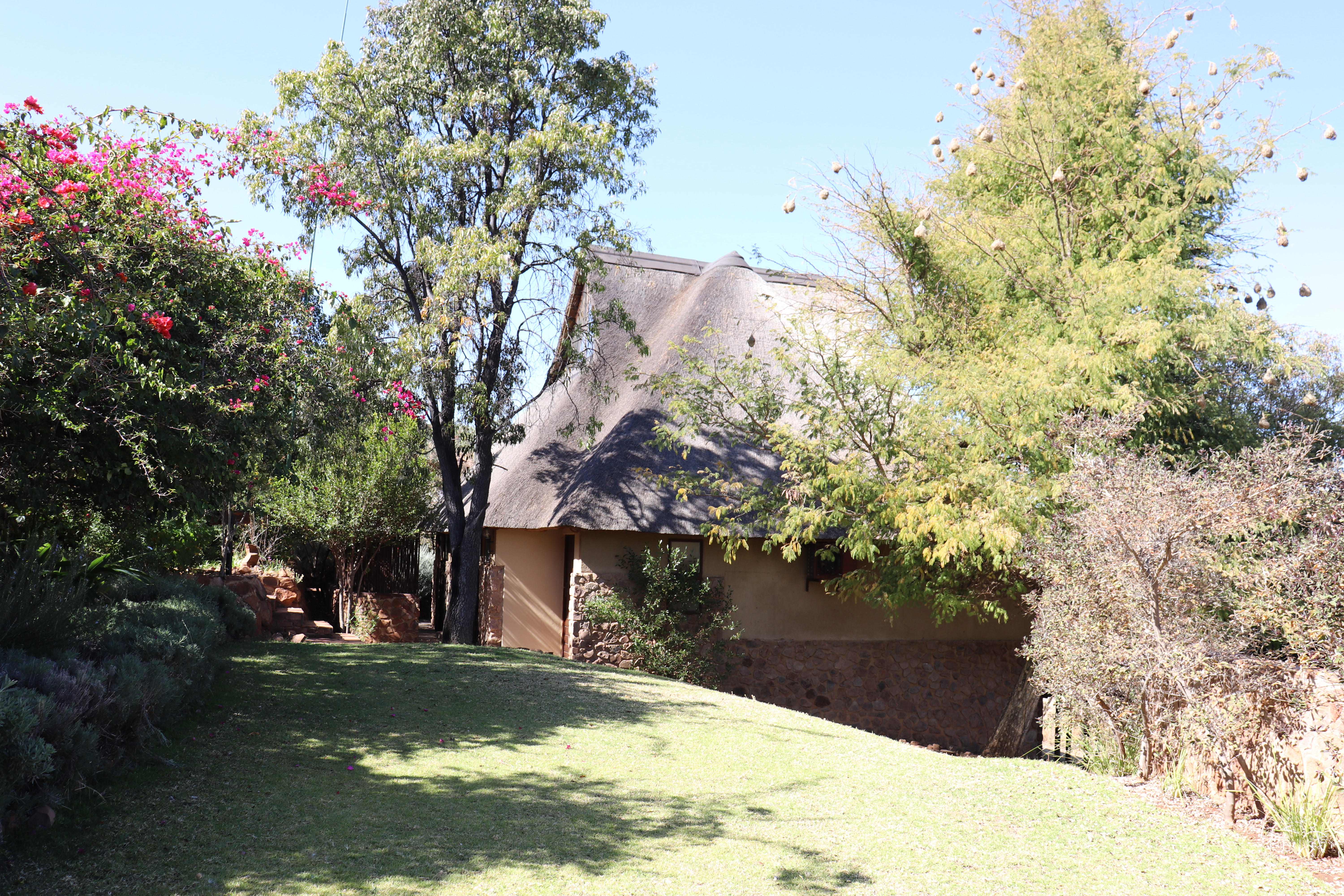 YOUR STAY INCLUDES
Meals: Breakfast and dinner – please let us know any dietary requirements
Drinks: Coffee, tea, water
Safaris: One complimentary game drive or bush walk per two-night stay, with an experienced guide
The rate is also inclusive of 15% VAT
YOUR STAY DOES NOT INCLUDE
Light lunch (optionally available)
Other drinks
Extra game drive or bush walk, at ZAR 300 pp
HIGH SEASON:
1 Feb – 30 April
1 Oct – 31 Dec
LOW SEASON:
1 Jan – 31 Jan
1 May – 30 Sept
CHECK IN / OUT
Check in time:
From 12 am. Please advise what time you will be at the gate.
Check out time:
11:30 am.
Please note:
Schrikkloof is a two-hour drive from Johannesburg. Please note that toll has to be paid on the main roads; no international cards are accepted. The lodge is situated 3km from the main gate. Transport from and to OR Tambo International Airport and helicopter transfers are available on request.
SAFARIS/GAME DRIVES
Our knowledgable ranger can show you the beauty and wildlife of Schrikkloof Private Nature Reserve during your stay.
At the discretion of our ranger, a game drive can include a visit to The Lions Foundation and a visit to the donkey sanctuary.
Please note that the lions at The Lions Foundation are potentially dangerous and are more or less traumatized. We will ask you to adhere to the rules that we will explain to you, and to sign a special waiver.
CHILD POLICY
We regret that we cannot allow children under the age of 12 at Schrikkloof. There are no safety measures for young children in place. Wild animals roam freely and could be a potential danger and the landscape has several precipices. Also, we have no babysitting facilities while parents are away on safari or visiting our lions. Our lions are all traumatized, so, for the children's and lion's safety, we do not allow children to visit them.
CLIMATE
Summer: (October – March)
Rainy season: hot days, warm nights
Temperature range: 25º – 35º Celsius
Winter: (April – September)
Dry season: generally warm days, cold nights
Temperature range: 5º – 25º Celsius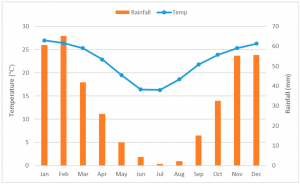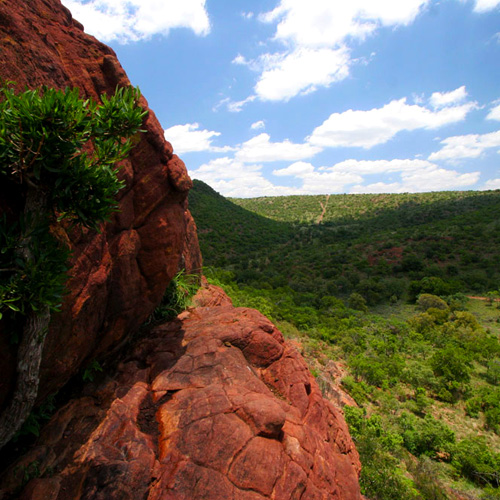 ABOUT SCHRIKKLOOF
Schrikkloof Private Nature Reserve is a 700ha area of unspoilt, malaria-free South African bushveld in the magnificent Waterberg, with a luxury, Out of Africa style lodge. Just a 2 hours' drive from Johannesburg airport.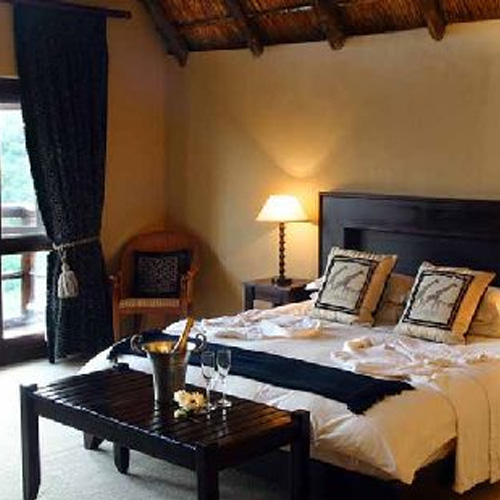 ACCOMMODATION
Schrikkloof can accommodate 20 guests in eight comfortable, private chalets and two suites. Enjoy our grand lodge with home-style food and relax in our sauna and hot tub while enjoying the breathtaking views.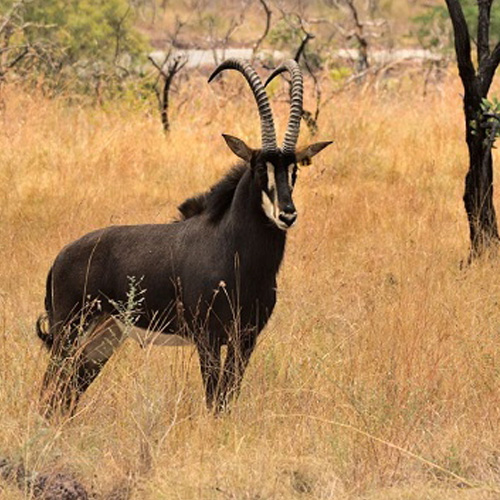 WILDLIFE
Schrikkloof is home to many species of wildlife. Spot the various ungulates, smaller mammals like the aardvark or maybe even carnivores like the elusive leopard. Avid birdwatchers will have a field day!